Just disinfect without stress.
The days of disinfectant wipes soaked in chemicals or aggressive disinfectants are over – thanks to cold plasma, your customers can now disinfect objects easily, safely and sustainably without any further chemical additives or heat..Whether in the laboratory, office or at home – simply place the objects to be disinfected in the treatment unit, start the device and take them out disinfected after a few minutes.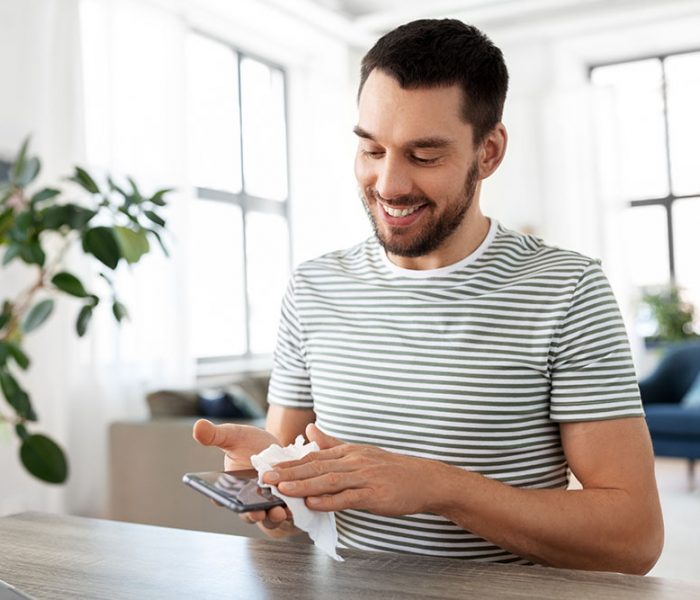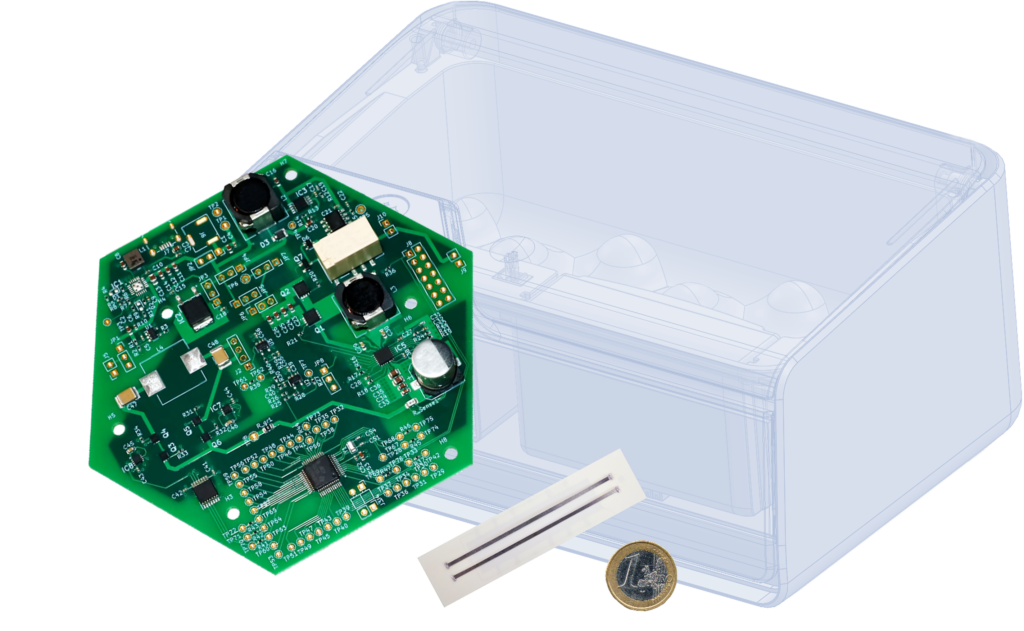 * Appearance and layout of the module are customisable
Our terraplasmaClean product idea
Compact, powerful and fully scalable – with our terraplasmaClean product idea, we offer a complete and tested hardware solution for disinfection with cold plasma that can be integrated into your product.
In addition to the plasma cassette, terraplasmaClean consists of powerful microelectronics that safely and reliably generate the high voltage of 4000 volts required to operate the plasma source from the 24 volt operating voltage.
In addition to its compact dimensions, terraplasmaClean is characterised by its scalability: a larger volume can be disinfected by connecting several modules in parallel. The same applies to the power supply – this can also be scaled to individual requirements.
Easy integration of innovative hygiene into your product
The compact size of the module components and the scalability of the system make it easy to integrate into existing products.
Only the size of the plasma source is specified, which is supplied in a protective housing as a complete pluggable unit. The compact control electronics and the power supply can be supplied in different board shapes on request to enable the most flexible integration possible.
We would be very happy to support you in integrating the module components into your product. Through numerous projects with various companies, we have extensive experience in the integration of our plasma modules – contact us today about this.
Your company and cold plasma in hygiene
Would you like to find out more about our terraplasmaClean product idea and are considering developing an innovative product with us? Then talk to us about the many possibilities of using terraplasmaClean for your own product innovations!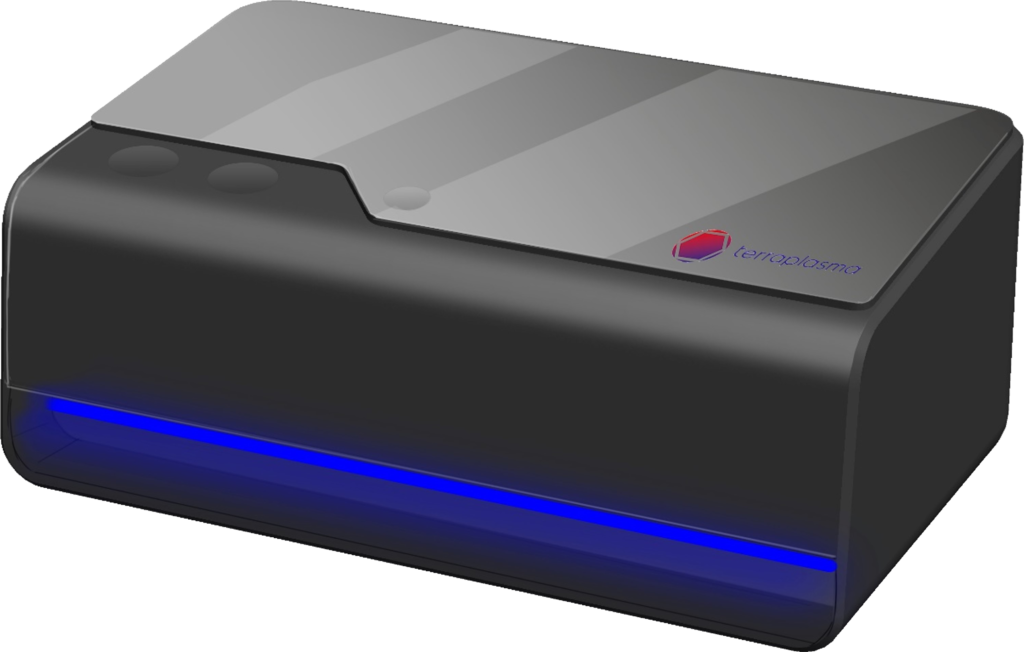 * The appearance and design of the unit are customisable.
Scientifically proven performance
With the development of a demonstrator for a compact and mobile disinfection device, we show what possibilities exist with cold plasma in the field of disinfection of commodities.
Within the framework of extensive scientific tests, we were able to prove the disinfection performance of our technology. Within a few minutes, 99.999% of all bacteria on the objects to be disinfected could be deactivated.
The handling of the demonstrator is simple and uncomplicated: Switch on the device (battery or power supply operation possible), place the objects to be disinfected in the cleaning chamber, close the lid, start the disinfection programme by pressing a button, wait 2-5 minutes – done!
Technical data of our demonstrator
Compact disinfection device: useful volume 1 litre or more
Disinfection of various utensils: e.g. keys, masks, glasses, toothbrushes
99.99 – 99.999 % bacteria reduction in 2-5 min
No shadow effect: disinfection in ducts/cavities/textiles possible
Mobile use thanks to rechargeable battery
Customised design: can be adapted – so different housing designs are possible
Scalable technology enables both miniaturisation and expansion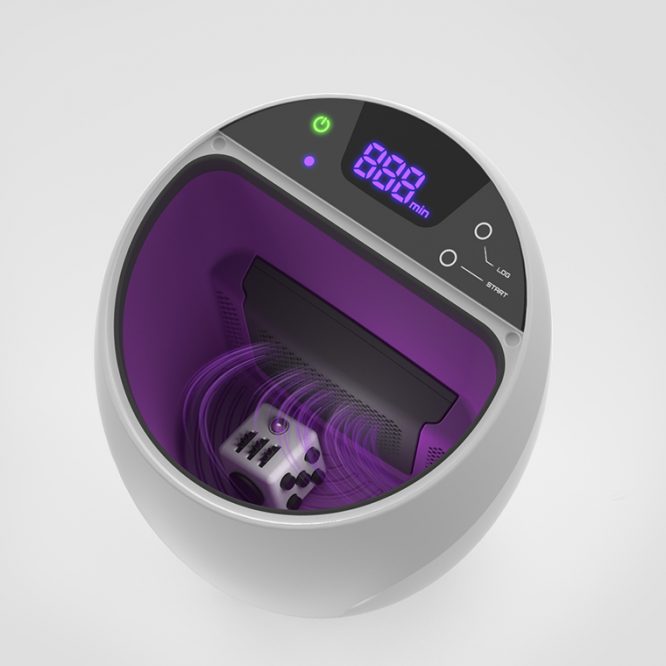 The innovation in disinfection – made in Germany: The CBC PlasmaEgg® is designed for the disinfection of everyday objects, laboratory equipment and personal protective equipment. It generates cold atmospheric plasma that acts on proteins and the RNA/DNA of bacteria, viruses and fungi, destroying them. Multi-resistant germs are also inactivated.
Chemical-free high-level disinfection
No resistance
Effective disinfection
Sustainable
1.5 litre chamber