Water treatment with cold plasma
Clean without additional chemicals.
Clean drinking water and clean teeth thanks to cold plasma – for instance, water filters can be cleaned directly on site by our solutions for Cold Plasma, thus increasing the service life of the filter solutions. On the other hand, you can clean your teeth, dentures or toothbrush attachments with Plasma Activated Water (PAW). PAW is highly effective and at the same time harmless, as it consists only of tap water to which energy is specifically added.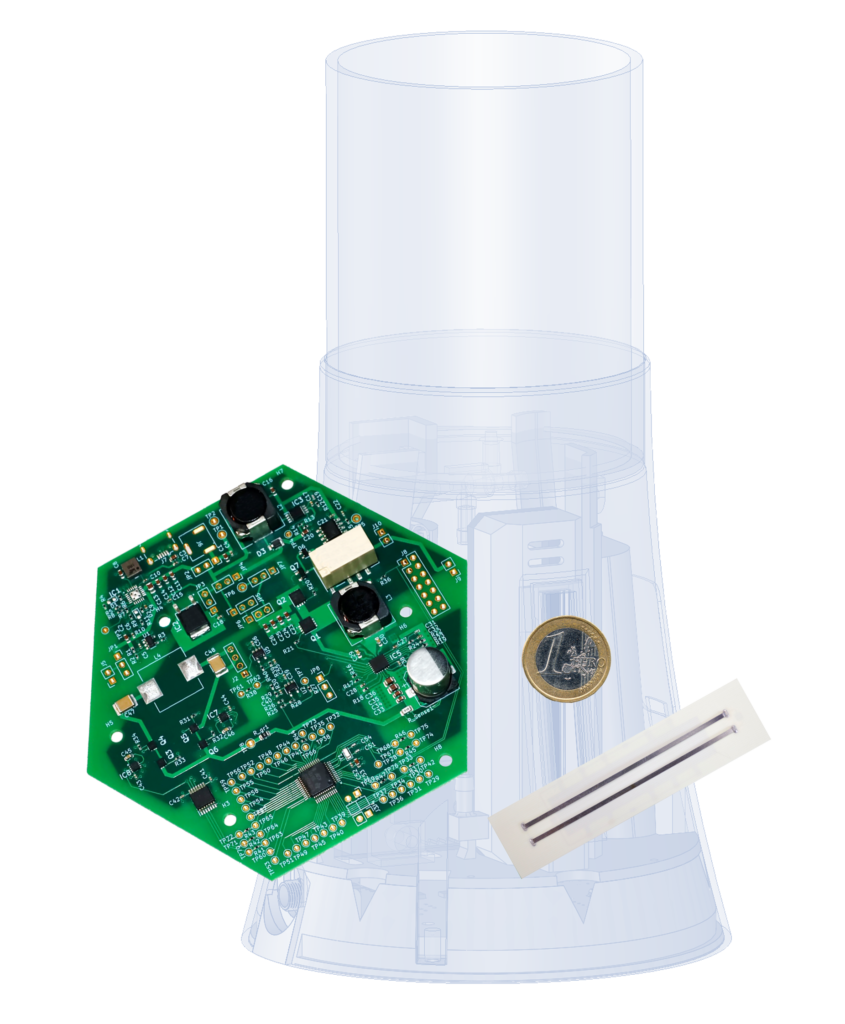 * Appearance and size of the module are customisable
Our terraplasmaWater module
Compact, powerful and fully scalable – with our terraplasmaWater module we offer a complete and tested hardware solution for the production of Plasma Activated Water (PAW) that can be integrated into your product.
In addition to the plasma cassette, the terraplasmaWater module consists of powerful microelectronics which safely and reliably generate the high voltage of 4000 volts from the 24 volts operating voltage required for the operation of the plasma source.
In addition to its compact dimensions, the module impresses with its scalability: a larger volume of water can be activated by connecting several modules. The same applies to the power supply – this can also be scaled to suit individual requirements.
Easy integration into your product
The compact size of the module components and the scalability of the system make it easy to integrate into existing products.
Only the size of the plasma source is specified, which is supplied in a protective housing as a complete pluggable unit. The compact control electronics and the power supply can be supplied in different board shapes on request to enable the most flexible integration possible.
We would be very happy to support you in integrating the module components into your product. Through numerous projects with various companies, we have extensive experience in the integration of our plasma modules – contact us today about this.
Your company and Cold Plasma
Find exactly the right application from the variety of possibilities. Individually for your product. Talk to us about the possibilities of using cold plasma for you!
* Appearance and size of the module are customisable
Scientifically proven performance
With the development of a demonstrator for a compact and mobile disinfection device, we show what possibilities exist with cold plasma in the area of the production of Plasma Activated Water (PAW).
Within the scope of extensive scientific tests, we were able to prove the efficiency of our technology. Within a few minutes, 99.999% of all bacteria in the water and on surfaces treated with it could be deactivated.
The demonstrator is easy and uncomplicated to use: Switch on the device (battery or power supply operation possible), fill in tap water, press the start button, wait 2 minutes – and the PAW is ready for immediate use!
Technical data of our demonstrator
Compact unit for the preparation of PAW: Volume of use 250 ml.
Improved oral hygiene: deactivation of microorganisms, gentle bleaching effect
99.99 – 99.9999 % bacteria reduction with an exposure time of 10 seconds
Mobile use due to rechargeable battery
Individual design: can be customised – so different housing designs are feasible
Scalable technology enables both miniaturisation and scale-up